The opening pressure test bench has been designed for the determination of the opening pressure.
The operator inserts the nozzle manually in the lifter of the camera. When the operator gets out of the inner side of the machine, it starts automatically and closes the protection door, reads the DMC code and the nozzle moves into the station where it is contacted and the measurement process starts. The needle force, which directly affects onto the needle, is generated by the media pressure built up by a servo-driven plunger pump and steplessly adjustable.
The required constant flow is generated by a second servo motor controlled pump which is mounted also next to the test head.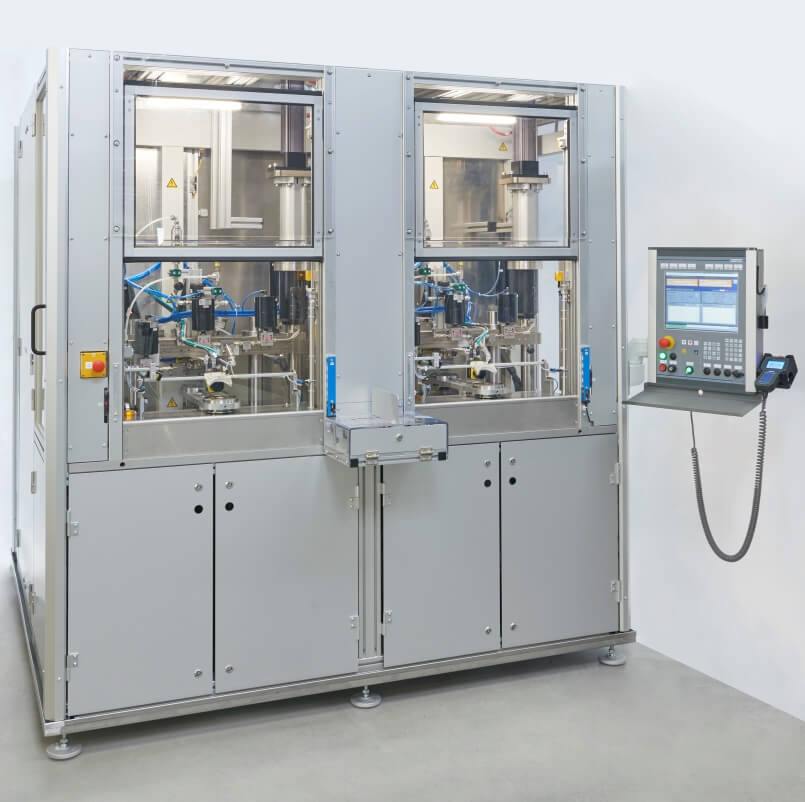 Highlights
Measurement of the opening pressure
Supply pressure control by using a servo-driven plunger pump (no pulsation
Variable adjustment of the needle force
Variable setting of the nozzle sealing force
Very fast and progressive needle force regulation
Easy changeable nest inserts
Temperature conditioning of test fluid
Complete cycle time < 21 s
Graphical representation of all analog signals
Windows-based PC user interfache for machine control and process parameter setting
Technical data
Pressure range: 100 bar – 1000 bar
Test volume: 28 cm³
Needle force: 150 N – 1250 N
Clamping force: 36 kN @ 5 bar
Dimensions: 1500 mm x 3100 mm x 2650 mm (W x D x H)