In an electric drive system, the power electronics are the connecting element between the battery and the motor: They supply the electric motor with power.
We develop assembly and testing systems for all three components of the power electronics system – inverter, converter and on-board charger. So you can get everything from a single source. We plan and implement line concepts from prototype construction to high-capacity systems with cycle times between 20 and 300 seconds. They can be used to manufacture typical workpieces weighing 2 to 20 kilograms.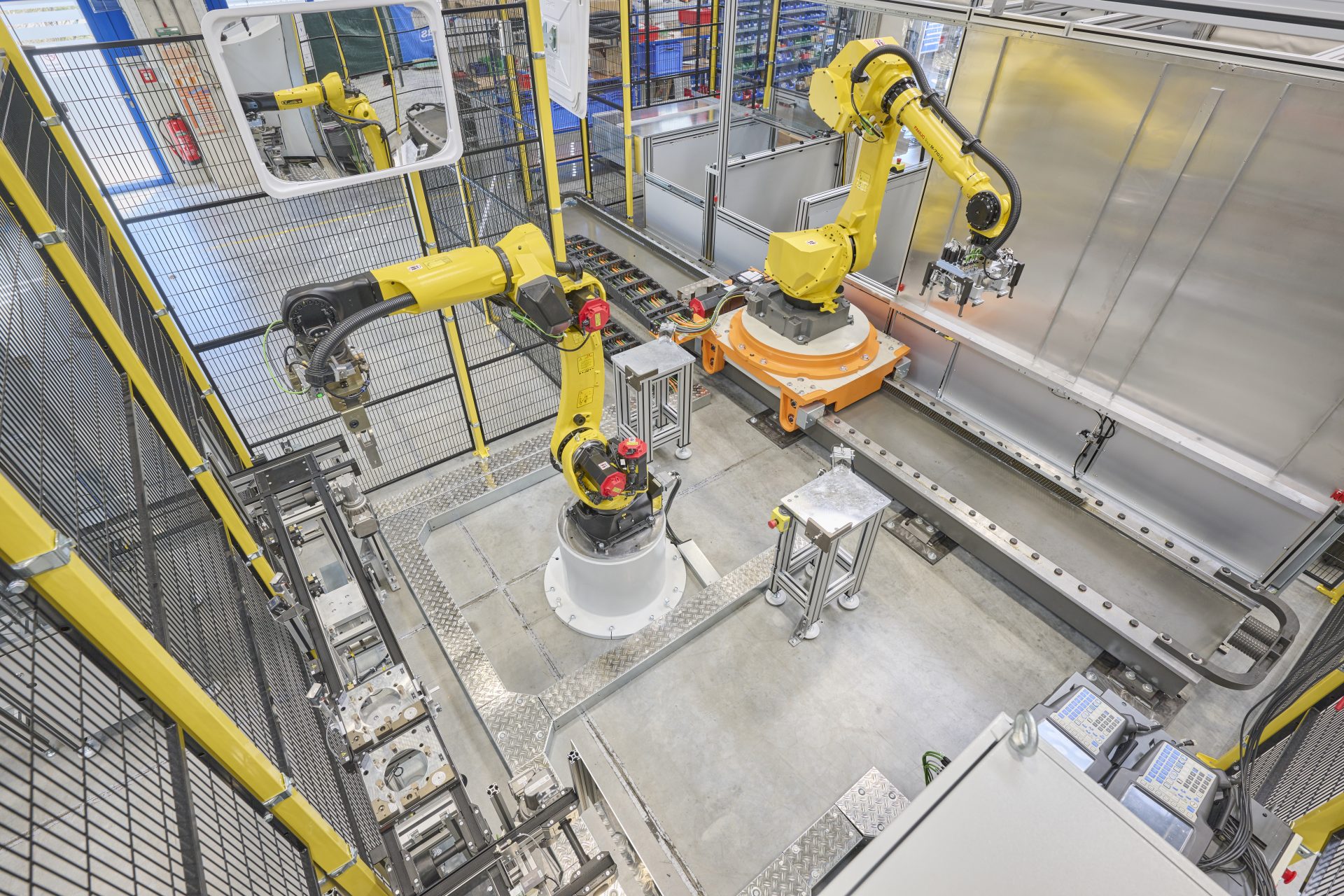 How you benefit
Due to our history, we have a lot of electronics manufacturing experience to fall back on. At our in-house electronics laboratory, for example, we develop and manufacture power amplifiers. Our experts know exactly what is important for power electronics in electric cars.
Based on the project requirements, we choose solutions from our wide portfolio of proven processes, many of them patented. Or else we work with you to develop your own processes as a customized solution for power electronics in the field of electromobility. We have implemented all key processes many times over. Thanks to our comprehensive experience, you won't need to worry about the usual "beginners' mistakes".
If you don't have the equipment necessary to build prototypes in-house, we can offer you the systems and process know-how you need.
We work with you to jointly develop processes that actually work in practice. If necessary, we optimize existing processes. That lets you lower your production costs.
With copper welding, for instance, we utilise green lasers. This relatively new method is extra efficient. Because copper absorbs green wavelengths much better than infra-red. Since the green laser technique brings the material to its melting temperature faster, the welding process can start faster, too, and less laser power is required. For optimum results, we can produce and analyse micrographs in our laboratory.
This includes, for example, the gluing of magnets in filter manufacture. We can supply you with the right joining station for pressfit pins: Control factors such as force, path and bending at all times. Plus, perform batch testing with strain gauges.
Be safe with us when it comes to power electronics!
For the EOL (End of Line) segment, we offer modular test fixtures. This includes leak testing, typically done with air, as well as flashing to save calibration data and load the operating system. The test station also allows you to test communication via CAN, Lin, Ethernet, etc. It can also be used to measure and calculate current, power or efficiency, as well as to test all functions. Plus, an indirect measurement of rotational speed can be obtained by analysing the current/voltage trends of motors.
We provide reliable test systems for cold tests on PCBs with needle adapters as well as for safe launch tests.
The testing challenge
We know how to safely work with the current high-voltage applications – and we're also prepared to handle future systems with even higher voltages up to 1500 volts.
Just like high voltages, we're also able to safely work with currents of over 500 amperes and accordingly high wattages. Take advantage of our unique qualifications.
Count on us for all your assembly and testing technology needs!
Contact us!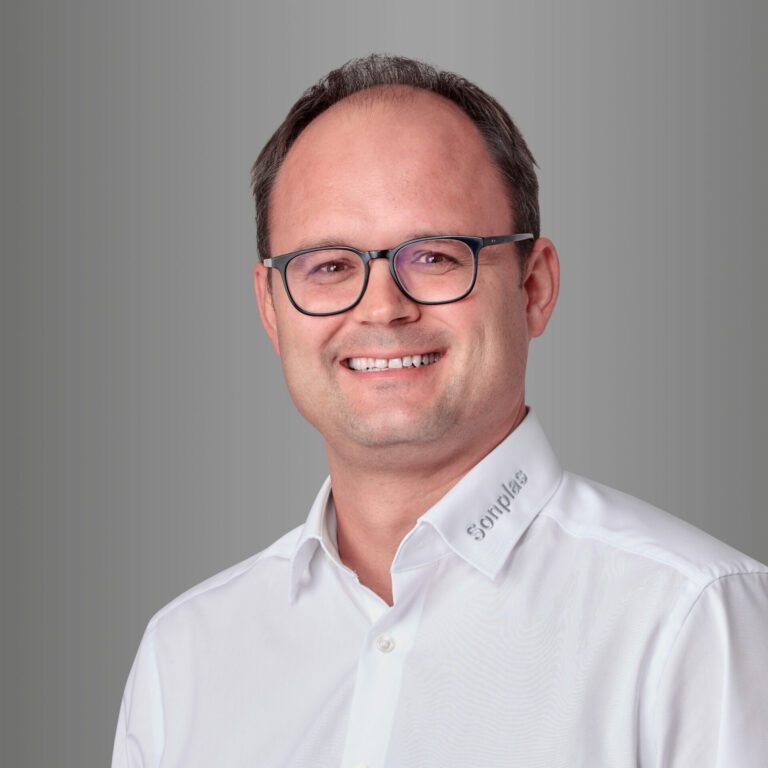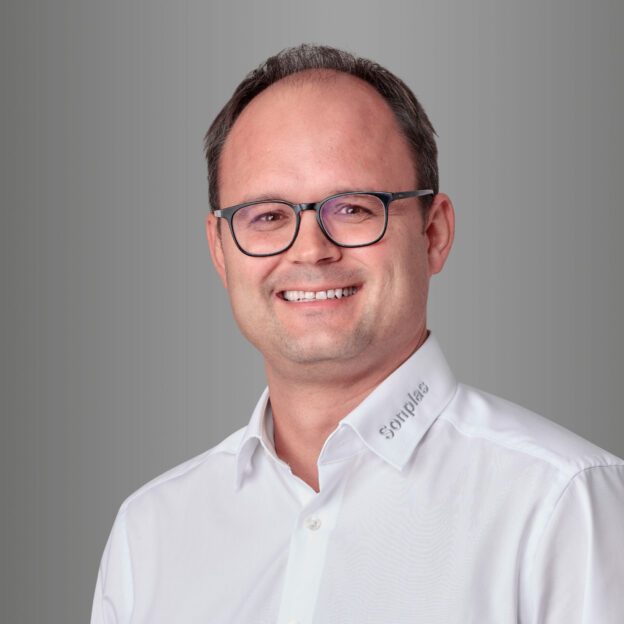 Paul Birkeneder
Dipl.- Ing. (FH)
Sales
+49 9421 9275-354
p.birkeneder@sonplas.de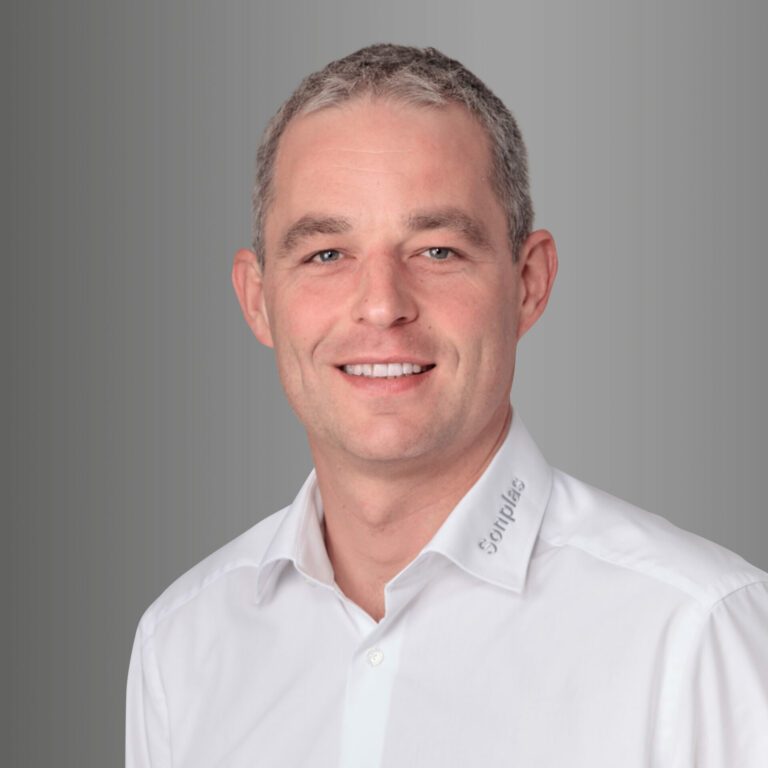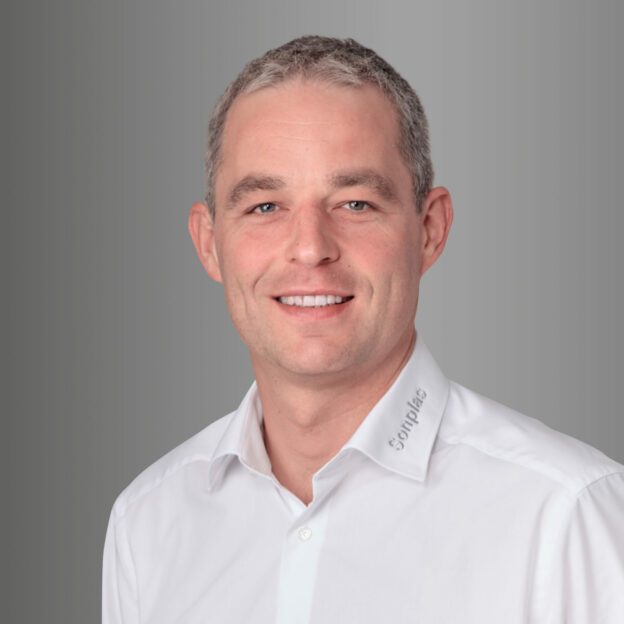 Robert Weigl
Dipl.- Ing. (FH)
Sales
+49 9421 9275-240
r.weigl@sonplas.de
Questions Answers on Power Electronics
The power electronics of electric and hybrid vehicles consist of three components:
Inverter
DC-DC converter
On-board charger
The inverter controls and monitors the electric motor, providing the electric powertrain with the necessary torque and rotational speed. It converts the direct current of the battery to the alternating current required by the electric motor.
To power the vehicle electrical system, the voltage of the high-voltage battery needs to be converted from 400 or 800 volts to a low voltage of 12 volts. This is the job of the converter – also known as the DC-DC converter.
The third component of the power electronics system is the on-board charger. Typically installed near the battery, this charging unit converts the incoming alternating current to a direct current. This unit rapidly charges the battery without damaging it. When using a fast charging station, the on-board charger handles charge management.
An electric car has two vehicle electrical systems: the 400 V or 800 V high-voltage system for the powertrain and the 12 V low-voltage system for on-board electronics like radio, lighting, windscreen wipers or cruise control. There is also a high-voltage battery installed, which, with the help of a converter, can also power the 12 V battery for the on-board electronics.
The temperature of the electric motor, the battery and the power electronics must be kept within an efficiency-optimised range. A powerful thermo-management system cools the components and keeps them within an optimal temperature window.
Where are the power electronics located in the vehicle?
The polarity is simply reversed, thus switching the rotational direction of the electric motor.