We offer to machine the first prototypes and small series for you with our in-house machinery to ensure a perfect start to your project. We can achieve quantities of up to 50,000 components per year within our existing capacities. Small-batch production means we can conserve resources, making production efficient and guaranteeing cost-effectiveness and maximum precision. We guarantee the best quality with regard to your specifications, laying the foundation for a successful project using suitable measuring and analysis equipment. We are happy to manufacture your sample parts in all areas, as well as small series.
In combination with our measuring systems, we have the following means at our disposal:
Negative imprints for checking geometries that are difficult to access
Video and photo microscopy with up to 2,500x magnification and measuring function
Video and photo endoscopy
Production of master parts (flow/test leaks, hydraulic and pneumatic) including inspection certificate according to EN 10204. Traceability to a normal value can be guaranteed at all times.
Please contact our research & development team for further information and to discuss your specific ideas.
Our equipment
We are able to develop innovative processes or products for or together with you using our in-house facilities and equipment. We are also happy to support you with trial series or tests. Our claim is to always offer the best solution for our customers.
Battery
The demand for battery storage is growing rapidly, with ever larger quantities and more efficient accumulators being required for a wide range of tasks. Accumulators are not only used in mobile devices, but also in the automotive sector, which is currently undergoing a change towards hybrid drives and e-drives. Together with our partner Clever Ltd., we combine skills in battery cell production for pouch cells and prismatic cells with knowledge of automation and testing and can thus successfully implement projects in the field of electromobility.
Folding demonstrator – for folding pouch cells

Highlights:
Multi-stage rolling forming instead of single-stage folding processes:

minimal stress on sealed seam and on pouch material
Very high dimensional stability -> taping not necessary
No lateral forces on the cell stack
Very small overlap (1 mm)

Longer calendar life due to the patented folding process
Large-format cells can be used (up to 700 mm)
Transport without workpiece carrier (simple format adjustment, gentle on the product)
Laser Notching – for cutting battery electrodes
For more information please visit our press area.
Highlights:
Automatic procedure for assessing the quality of the cut
Very good cut edge quality due to innovative laser process
Large scan field (flexibility)
High speed stacking
High efficiency due to small spot size
E-Powertrain
In addition to our turnkey assembly and test processes, we are happy to offer our expertise to develop and optimise your customised products and processes.
We are currently working on processes for rotor and stator assembly in the field of eMobility, as well as electronic components such as inverters, filters and control units that are required for the drive.
Joining of shaft, sheet metal package, flanges and bearings

Oven for hot joining up to 400 °C
Cold joining down to -60 °C, nitrogen cooling optional
Pressing station with force/displacement monitoring
Magnet joining with customised bonding/ joining processes
Laboratory dispenser for various adhesives
UV fixation optional
Analysis of the adhesive distribution by opening the rotor and evaluating the magnetic surface connected to the rotor by the adhesive
Highlights:
System flexibly adaptable to rotor geometry
Adhesive dosage for different adhesives
Several magnets can be placed on top of each other in the slot
End of line testing according to customer specification
Geometric measurements
Electrical and magnetic measurements
Automatic 3D adhesive application
Highlights:
Track curves can be programmed flexibly via CAD/CAM or by the operator
600x400x300mm travel distance
Laboratory dispenser for various adhesives (1-component and 2-component adhesives)
UV curing for adhesives available as an option
Rotation axes can be retrofitted as required
Analysis of the adhesive distribution for joined components (service provided independently of 3D adhesive application)
Press
Highlights:
Pressing forces up to 100kN
750mm travel distance with max. 200 mm/sec.
Force-distance monitoring and recording
Flexible design for components up to 650 mm diameter
Work-piece guidance from below for accurate guidance of components
Easy and flexible programming of program flows
Hydrogen
We are pleased to demonstrate our hydrogen expertise to you in our in-house test center at our test bench for components containing hydrogen. There, we not only test components with H2, but also measure the injection rate and determine the injected gas volume, among other things.
H2 test bench

Highlights:
Function and service life test
Inertized test chamber
Flow test up to approx. 2 g/s
Shot-to-shot measuring device for high time resolution measurement of the injection rate
Test pressure up to 1000 bar
Universally applicable for all components in the H2 circuit from the tank to the consumer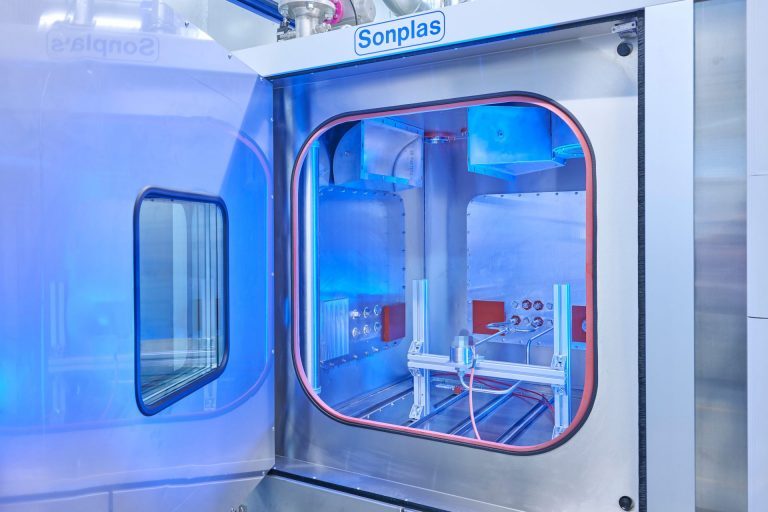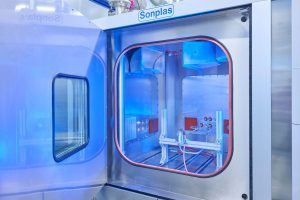 Electronics, mechatronics & hydraulics
We have the opportunity to demonstrate some of our core processes in the areas of electronics, mechatronics and hydraulics. In addition to the existing demonstrators, we can also develop customised and tailor-made solutions.
Shock absorber demonstrator

Possible tests: Damping force (potato curve), gas force, friction force
Highlights:
Electric drive with linear motor, measuring system with 1μm resolution
Force sensor up to 30 kN
Test amplitude from 0..+/-100 mm
Flexible test sequences by using FlexTestplan
Sampling rate of the measuring signals 4 kHz, bus cycle time TwinCAT 250 μs
Assembly AC sensor
Pressure calibration of prototype sensors
Conclusions about the calibration process during product development
 Air tightness testing

Possible tests: Pressure increase test and pressure decay test
Highlights:
Potential boundary case leakages 0.05..10.0 cc/min.
Values of test pressure 0.1..5bar (option of under-pressure testing available/)
Highly accurate differential pressure sensor -5..10 mbar (measurement range extensible)
Measurement/Control of leak-tightness possible
Flexible adaptation concept (very small to very large test specimens possible)
Automatic calibration with integrated micro-litre injector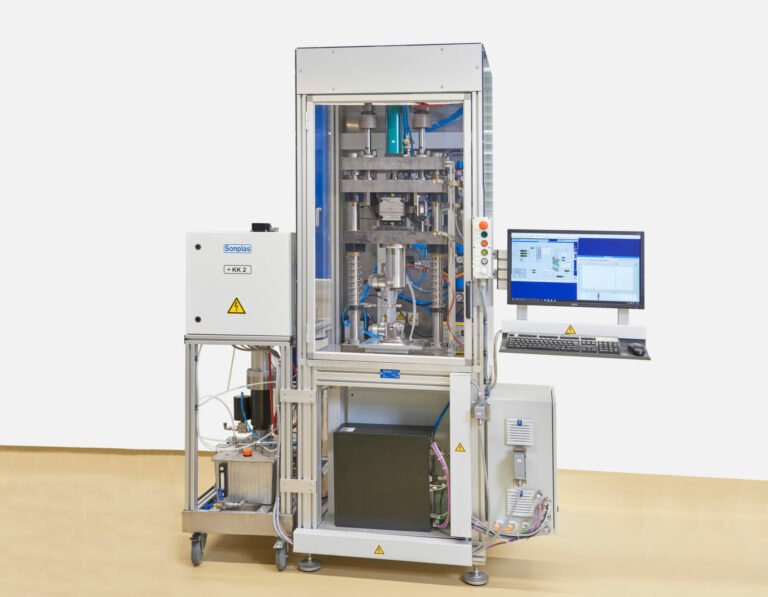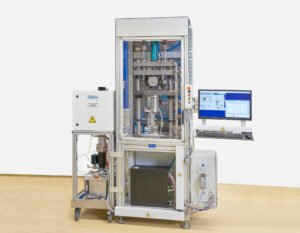 µHammering
Highlights:
No stick-slip effect
Reduced component load
High precision press-fit (< 1µm)
Highly accurate setting of opening pressures with direct measurement
Piezo high-power shock generator
Press-in forces up to 40 kN possible
Hydroerosive grinding
Hydroerosive grinding has been one of Sonplas GmbH's core competences for almost 20 years now. A distinction is made between the sub-areas of flow calibration, rounding and deburring. Component-specific fixtures are designed and manufactured for adaptation in our machining and measuring systems in order to process the components in the best possible way according to your requirements. For this purpose, we can draw on a large selection of different abrasive fluids, which are conveyed through the internal bores to be machined at high pressure, similar to liquid abrasive paper. This process removes internal burrs and smooths and rounds bore intersections, which, in addition to improved high-pressure resistance, is also equivalent to artificial pre-aging of the component and thus guarantees consistent performance over the entire life time of the component.
During the entire process, the rising flow of the component is monitored so that it can be stopped at exactly the required value. This allows flow tolerances of ±1% to be set with process capability.
From the smallest injector components to additively manufactured and composite components to fuel distributor rails, injector housings and cylinder heads – the range of applications for hydroerosive machining is almost limitless!
Our service:
Design and manufacture of customised fixtures for your product
Adaptation of the HEG process to your application
Machining of your products from a few prototypes to contract manufacturing (up to 50,000 parts/year)
Consistent quality control
Comprehensive documentation (test reports, measurement using digital microscopy, measurement results, acceptance test certificates)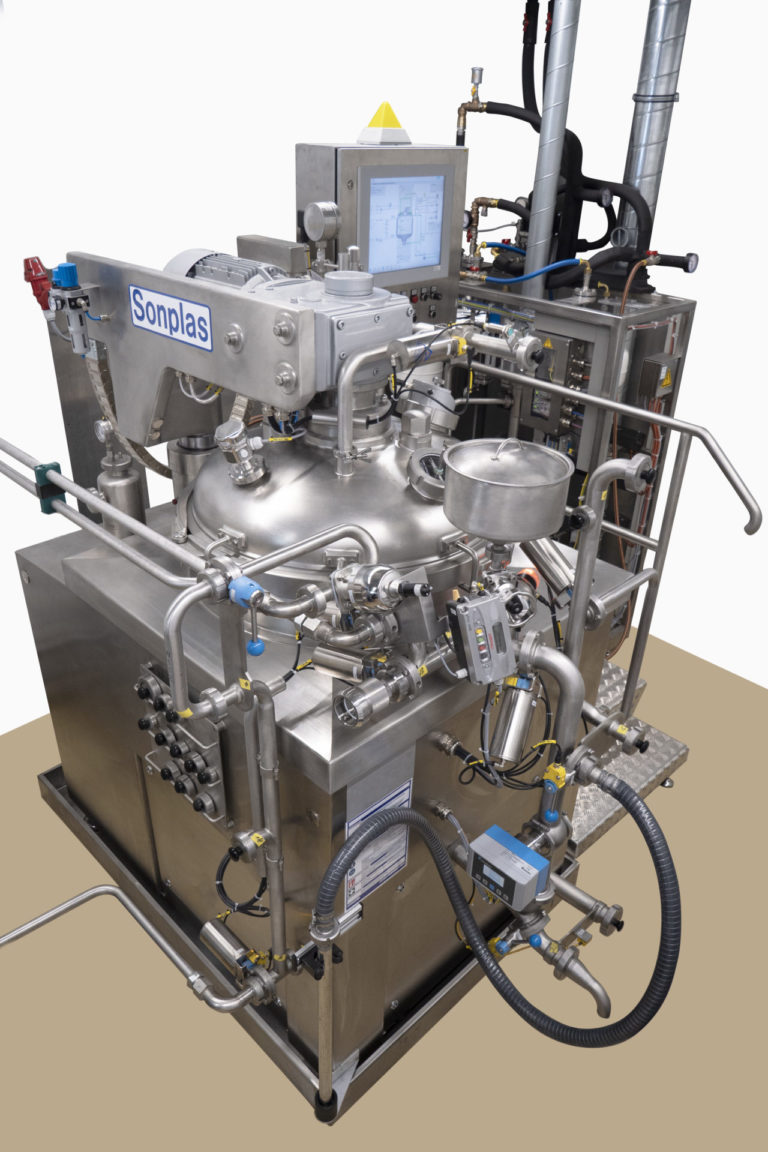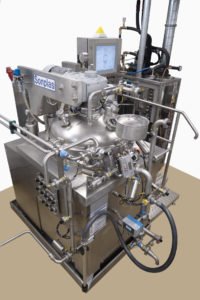 Fluid production unit
In-house technology for the production of a wide range of suspensions, emulsions and other liquid substance mixtures of the highest quality. Products can be produced in a defined and reproducible way via variable shear rate introduction and partially automated production processes.
Product range:
Oil- or water-based systems
Product density: 500 to > 1300 kg/m³
Product viscosities: 0.5 to > 10000 mPas
Particle sizes: < 1 to 80 μm
Highlights:
Batch volume: 35 to 250 L
Process pressure: -1 to 2 bar adjustable via vacuum / compressed air system
Product temperature control via double jacket: 15 to 110°C
Peripheral speed homogenizer: 5 to 25 m/s; variable direction of rotation
Peripheral speed anchor stirrer: 0.6 to 3.6 m/s; variable direction of rotation
Fluid dosing: feed mass: up to 1300 kg; dosed reactant mass: up to 300 kg per batch
High chemical resistance: parts in contact with product: 1.4404; PTFE or FPM
CiP function (Cleaning in Process) and inline sensors for cleaning and quality monitoring
HE Module – grinding machine

Highlights:
Flow range 75 – 15,000 ml/min
System flexibly adaptable to your application
Quick changeover
Low cycle time
Energy-efficient servo-hydraulic pump drive
Flow test with and without back pressure during the machining process
HE highflow – grinding machine

Highlights:
Flow range up to 100,000 ml/min
System flexibly adaptable to your application
Quick changeover
Low cycle time
Machining of components with large outer geometry and high flow rates
Flow test 75 – 3,000 ml/min
Highlights:
Cavitation studies
System flexibly adaptable to your application
Quick changeover
Low cycle time
Flow test with and without back pressure
Highflow flow test 2,500 – 40,000 ml/min
Highlights:
Cavitation studies
System flexibly adaptable to your application
Quick changeover
Flow test with and without back pressure
Fuel injection technology
Highly efficient injection systems that meet common standards require innovative assembly, adjustment and testing processes. With our decades of experience in the field of petrol and diesel injectors and our extensive laboratory equipment, we will be pleased to impress you with the quality of our processes!
Active Flow Meter (AFM) for GDI injector test

Combination  of high pressure generation and flow measurement in an innovative component. A hydraulic cylinder pushes a test medium through the injector. Knowing the stroke volume and the boundary conditions allows a precise statement to be made about the injector flow. Get to know more about our innovations.
Highlights:
Measurements in the pressure range of 10 – 1000 bar and in the measuring range of 0.1 – 150 mg/shot and scalable cylinder
Pressure generation and flow measurement combined in one system
The pump design can be used for flow and leak tests
Sturdy construction
Easy and low cost maintenance
Enhanced system availability
Minimal space requirement
Optional retrofitting in existing systems available
Low noise emission
Up to 97% less energy consumption in comparison with conventional technology
Optional self-diagnosis and maintenance prediction available
Gas – GDI calibration machine
Highlights:
Hydraulic leakage test in the nl range
Flow measurement of static and dynamic flow in petrol injectors with:

Rotating high pressure pump and Coriolis flow meter
ActiveFlowMeter (AFM) with measurements in the pressure range of 10 – 1000 bar and in the measuring range of 0.1 – 150 mg/shot

Flow calibration of dynamic flow and closing time (only with AFM)
Further possible measurements:
Injector characteristics
Function test
Determination of maximum opening pressure
Shot-to-shot measurement
Rate progression measurement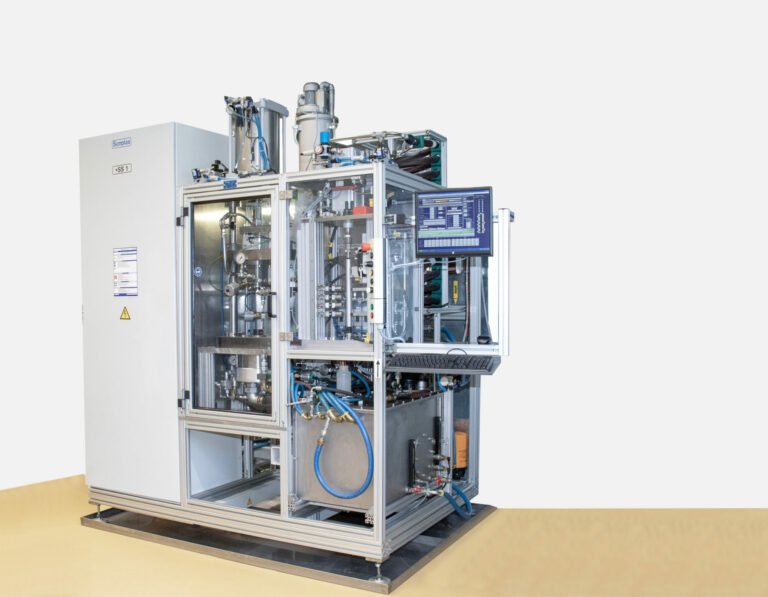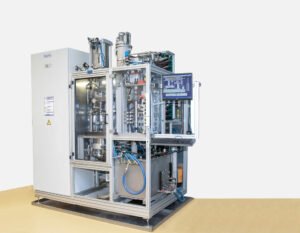 Diesel – highflow flow test 2,500 – 40,000 ml/min
Highlights:
Flow test with and without back pressure
Cavitation studies
System flexibly adaptable to your application
Quick changeover
Diesel – flow test 75 – 3,000 ml/min
Cavitation studies
System flexibly adaptable to your application
Quick changeover
Low cycle time
Flow test with and without back pressure
Aerospace
Sonplas has been offering highly flexible system concepts in the field of functional testing of fuel and hydraulic components in the areas of aeronautical engineering, aviation maintenance and maintenance repair operations (MRO) since 2014. We can draw on more than 15 years of experience and knowledge in the processes we use – for example, innovations such as the Sonplas valve for avoiding cavitation effects.