The fully automated HE-grinding machine & loader + EDM high flow is used for the flow calibration of fuel injection components. Based on a round table concept the workpieces pass through the individual processes. During the HE-grinding process an abrasive fluid is pumped under high pressure through the workpiece holes to round them. The flow increases, depending on the application, from 5 % to 45 %.The grinding process is stopped as soon as the correlated target flow has been reached.
In front of the round table there is a robot loader with drawers to insert the workpieces on pallets into the machine.
After turning the workpiece with a turn unit, the robot moves the workpieces in front of the camera to read the Dot Code on the part. A second camera checks the orientation of the part to put the workpiece orientated into the EDM machine and into the round table nest.
After finished processing in the turntable the robot moves the workpieces back to the pallets in the drawers.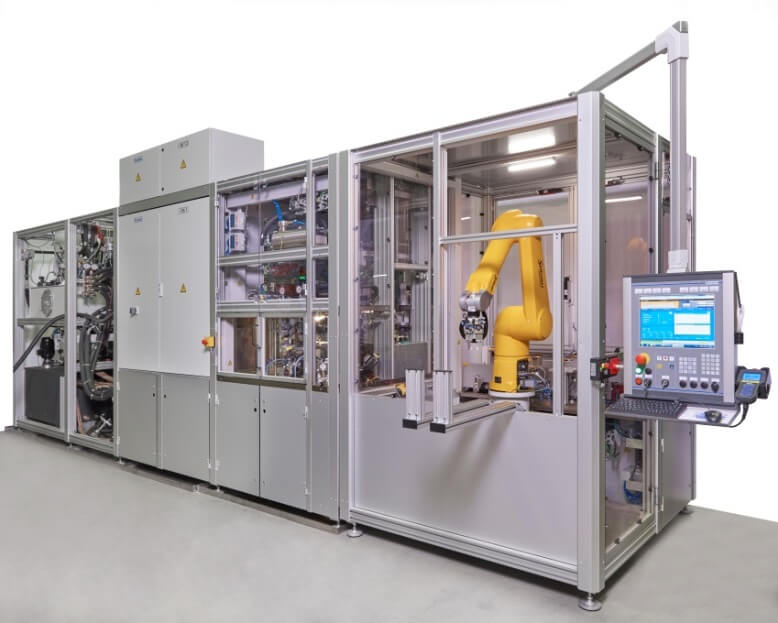 Highlights
Quick changeable workpiece carriers
Individually activated process steps
Linking of the result files with the workpiece DMC
Place saving concept of the rotary table
Easy data handling access via a local database (target values, results, etc.)
Illustrative visualization of running processes and outcomes
Control panel with touchscreen display and convenient user interface
Part input via drawers
Direct loading of the EDM machine
Technical data
Cycle time grinding process: depending on the degree of rounding
Grinding pre-pressure: max. 140 bar
Grinding flow: max. 40 l/min
Washing pressure: max. 10 bar
Measuring pre-pressure: max. 140 bar
Measuring back pressure: max. 80 bar
Measuring flow: max. 65 l/min